Wastewater Treatment Plant Containment Area Protection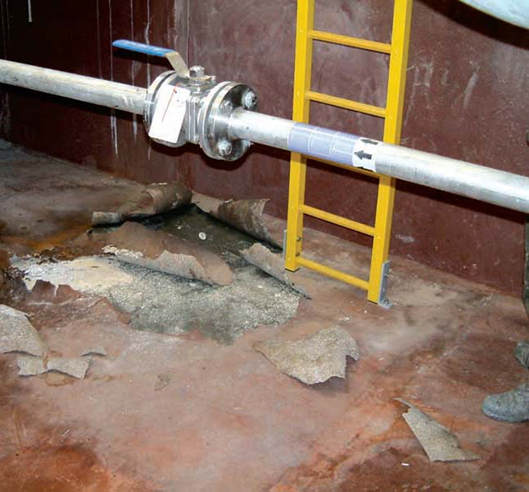 The Problem
The original coating had failed following an incident when a valve had leaked and 3 quarts of 95% sulfuric acid had spilled onto the containment area lining.
As can be seen from the photograph, the sulfuric acid had caused severe damage to the coating and had chemically attacked the concrete.
This could have caused a serious EPA concern if the acid leached into the ground below.  The client required a high-performance coating that could contain a spill in the unlikely event of a future pipe or valve failure. 
The Substrate
Concrete
The Solution
The substrate was lightly abrasive blasted  to clean and remove the existing coating. 
The concrete was rebuilt using RESICHEM 576 Quartz Screed. Then we primed the surfaces with RESICHEM 505 Damp Seal. 
We then applied two coats of RESICHEM 511 UCEN to provide exceptional resistance to chemical attack even under permanent immersion conditions in up to 98% sulfuric acid. It is ideal for the long-term protection of tanks, pipe work, containment areas, and dykes.
Products Used