Sugar Mill Juice Plate Rebuild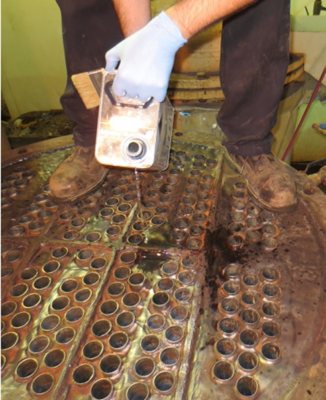 The Problem
This sugar mill needed a solution for their press water heater.  The area around the tubes had a ¼" to ½" of missing metal on the face plate of the heater and was getting worse.
They asked the USI Team for a solution to rebuild and protect it so they didn't have to pay to replace this unit.
The Substrate
Metal 
The Solution
First, the area was cleaned with USI Universal Cleaner.  
Next, the MBX Bristle Blaster was used to create a 2 ½" – 3" anchor pattern around the tubes where there was missing metal. 
Then the USI Team used RES201 Ceramic Repair Paste to build up the areas around the tubes. 
After allowing cure time for this material, 2 coats of RES205 Ceramic HT Fluid was applied. This product is designed for up to 300°F continuous emersion.
Products Used