Condensation Tank Refurbishment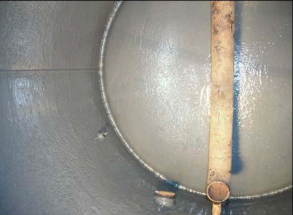 The Problem
One of the big three automotive plants had a condensate tank that was severely corroded. The replacement cost was going to be over $100,000. They called Unconventional Solutions to evaluate and come up with a cost-effective alternative.

The Substrate
Metal
The Solution
Our technical consultant collected information from the customer, such as the chemicals used in the tank and the operating temperature (which was over 180° F).
RESICHEM 511 UCEN will protect the tank from future corrosion. This coating is a 100% solid, VOC free, durable solution which provided an immediate cost savings of over $80,000. Two different coats were applied with two different colors to make sure the coating did not have pin holes when the application was done. This project is still going strong after being in service for over four years.
Products Used