The Challenge
An automotive manufacturing company was hearing heavy vibration of a fan shaft on top of the roof, so they called Unconventional Solutions out for an emergency repair to fix a cracked shaft. The shaft was located in a penthouse HVAC building on the roof of a warehouse used for heating. The shaft was 6 feet long, with a wear area 2"- 3" wide, by roughly 1/16"- 1/8" deep, caused from a bad bearing. A new shaft alone costs nearly $2000 and would take 4 weeks to be delivered. A factor of 4 days of downtime and labor costs of 4 employees working 10+ hour days totaling approximately $5000 to get the replacement shaft installed and ready for service, was also an issue.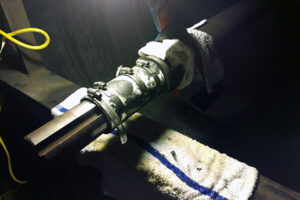 The Solution
As a turnkey project, the USI Team recommended using Resimetal 101 Metal Repair Paste.  The shaft was solvent cleaned with USI Universal Cleaner and prepped with the MBX Bristle Blaster to achieve an anchor pattern of 2-3mils and SSPC-SP2 or SP3 standard, followed by another application of USI Universal Cleaner to remove any oil or debris.
The Resimetal 101 Metal Repair Paste was properly mixed according to its Technical Data Sheet and formed with PVC pipe that is lined with Resimac 904 Release Agent and hose clamps to the wear area of the shaft.  Heat was applied for quicker overall cure time.  The project was completed in 6 hours and allowed to finish curing and was back in service within 48 hours.