Fan Impeller Refurbishment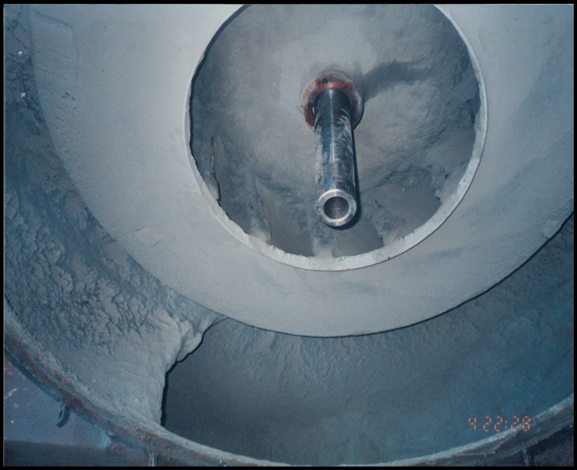 The Problem
The carbon steel impeller of this dust extraction fan had been subjected to heavy wear as a result of the very aggressive operating conditions. The fan is used to extract gas laden with iron dust.
This steel company had intended to replace the worn impeller with a stainless-steel impeller at a cost of over $40,000. Instead, high-performance ceramic repair and resurfacing compounds were used.
The Substrate
Steel
The Solution
All loose material was scraped away. The surface of the impeller was degreased using the USI Cleaner and blast cleaned to a minimum industry standard of NACE 2.
Our multi-purpose RESIMAC 201 Ceramic Repair Paste was used to rebuild the deeply pitted areas prior to the application of two coats of RESIMETAL 202 Ceramic Repair Fluid.
RESIMETAL 202 Ceramic Repair Fluid is a solvent-free epoxy coating that provides a smooth, low-friction finish as well as optimum levels of physical and mechanical strength, and superior resistance to erosion and corrosion.
Even after four years of service, the client is still very pleased with the application and the substantial cost savings made. The total cost of refurbishment amounted to just over $1200.
Products Used: