The Problem
This wind tower in the thumb region of Michigan has become damaged over a period of time and requires refurbishing due to severe corrosion. The customer was looking for a high-performance long-term repair solution. 
The client asked Unconventional Solutions to provide an effective repair and protection solution to their problem.
The Substrate
Metal
The Solution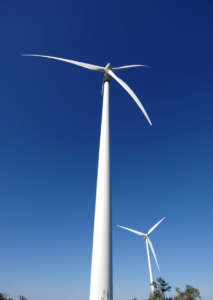 The steel tower was prepared by using a MBX Electric Bristle Blaster, which mimics the results of grit blasting, to a near-white metal finish, or a NACE Grade Two.
One coat of RESICHEM 506 ALUPRIME, an epoxy high-solids steel protection system, was applied to the severely corroded areas.
Then, two coats of RESICHEM 555 Resinox were applied. Although it is possible to apply heavier film builds with a spray or brush, two coats, with drying time, is recommended to ensure the minimum DFT of 350 microns (14 mils) is achieved to give the long-lasting results desired.
RESICHEM 555 Resinox, available in grey or white, is a water-based, high-build acrylic encapsulation system with the optimum level of UV resistance to offer an anti-corrosive protection to the steel structure.
Products Used