Tank Chime Repair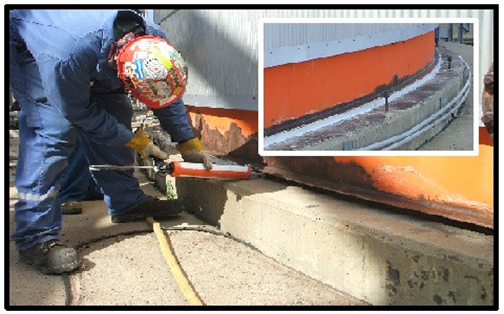 The Problem
A wastewater company was looking for a cost-effective and durable repair solution for their tank chimes. There was a 1½ in. gap that needed to be repaired and sealed.
The company also wanted to save time with a solution that is easy to apply.
The Substrate
Steel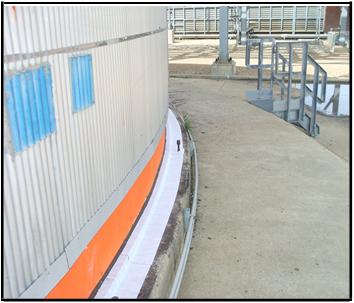 The Solution
Unconventional Solutions used a viscous elastic Viscotaq Sealant, a mastic-like paste with synthetic properties to seal the gap at the base of the tank chime. To protect from further corrosion, the sealant was then covered with a 70mil viscous elastic Viscotaq E-Z Wrap that can be painted immediately.
Since the floor plate of a tank is constantly moving during the filling and emptying process, the permanent flexibility and aggressive adhesion of this viscous elastic system is ideal for tank chime areas. Then we painted the Viscotaq E-Z Wrap with RESICHEM 555 Resinox for long-lasting, aesthetically-pleasing corrosion protection.
Products Used