The Problem
A local gas company in Ohio, after acquiring an existing distribution line, encountered a significant challenge they needed a low pressure gas leak repaired. They discovered small leaks in the line, which posed a dilemma. The area was classified as low pressure and low consequence, but the company needed to address the leaks without disrupting service to a major customer and, crucially, without compromising safety.
The Substrate
The distribution line was made of metal, a standard material for gas lines due to its durability and ability to withstand various environmental conditions. However, even metal pipes are susceptible to leaks, especially in older infrastructure.
The Solution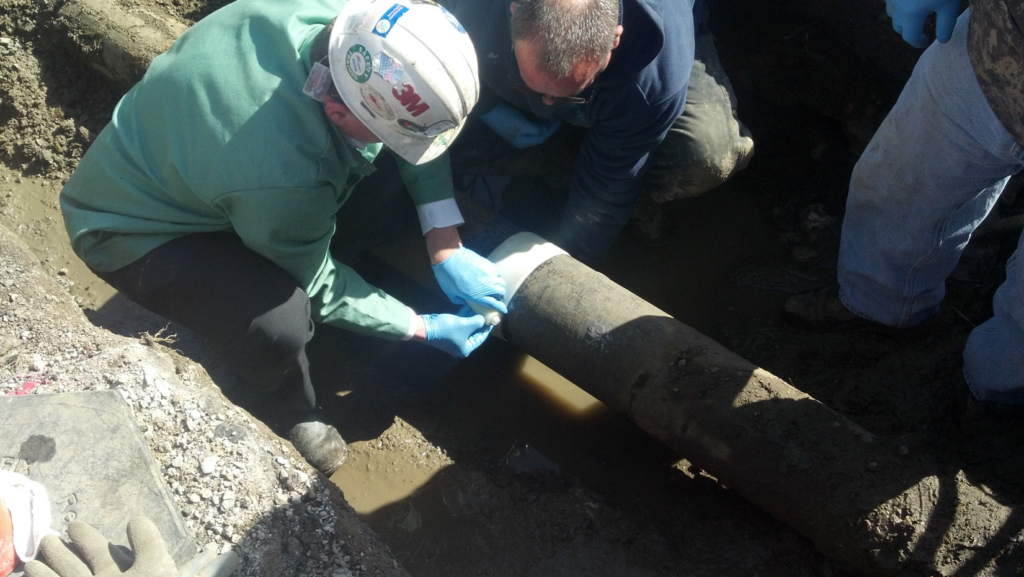 Unconventional Solutions, having previously made an impression at the Underground Corrosion Short Course, was contacted to provide a solution. The recommended approach involved the use of two specific products:
330 Self-Fusing Silicone Tape: This tape was chosen for its strong sealing properties and ease of application.
RESIMETAL 108 Pipe Repair Tape: Known for its high-pressure handling capabilities (up to 400 psi with twenty wraps and 150 psi with fifteen wraps), this Resimac tape was ideal for the repair.
The application process included several steps to ensure the effectiveness and longevity of the repair:
Surface Preparation: The pipe was first thoroughly cleaned with USI Universal Cleaner. This step is crucial to remove any contaminants that might hinder the adhesion of the repair materials.
Roughening the Surface: A hand tool was used to roughen the pipe surface, creating a better profile for the tapes to adhere to.
Second Cleaning: The pipe was cleaned again with USI Universal Cleaner to remove any debris from the roughening process.
Tape Application: The tapes were then applied to the leak areas, providing a robust and durable seal.
Additionally, USI provided onsite training in the application of these products, ensuring that the gas company's team was fully equipped to handle future repairs.
Products Used
For innovative and safe solutions to gas line leaks and other industrial challenges, contact our experts at Unconventional Solutions today. Ensure the safety and efficiency of your infrastructure with our proven products and expertise.