Tank Seam and Rivet Repair

The Problem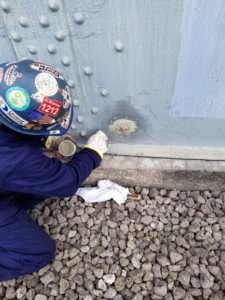 The outside of this tank at its seams and rivets was beginning to take on damage. Rusting and erosion had started, and the tank needed a repair instead of a full replacement. The Unconventional Solutions team had just the right solution for this issue.
The Substrate
Metal
The Solution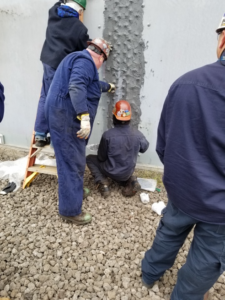 The USI team chose to use RESIMETAL 101 Metal Repair Paste, a two-component metal repair compound.
The location where the product would be applied needed to be surface prepped. All oil and grease must be removed from the surface. This was done using USI Universal Cleaner. The area was then roughened. Then cleaned once more with USI Universal Cleaner to get rid of any remaining debris.
Then the RESIMETAL 101 Metal Repair Paste was mixed according to the technical data sheet and applied and pressed firmly to the needed areas. This was done to reduce or eliminate all possible air pockets and to ensure excellent product adhesion and a long-lasting repair.
Products Used