TANK – Seam/Rivet Repair

The Challenge
A Chicagoland refinery had a holding tank that was suffering from corrosion and erosion on the seams and rivets.  They were looking for an economical solution to keep them up and running, rather than an expensive and long-lead replacement.  The USI team had just the right solution for this issue.
The Solution
The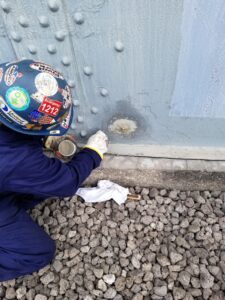 USI Team selected USI Emergency Plug Patty, along with Resimetal 101 Metal Repair Paste.
Surface preparation is one of the key ingredients to a successful repair. All oil and grease were removed from the surface using USI Universal Cleaner, which removes hydrocarbons and other contaminants that adversely affect adhesion. The area was then mechanically abraided, then cleaned once more to get rid of any remaining debris.
Then the USI Emergency Plug Patty was pushed into places where there was active seeping oil/gas out of the tank.  Then Resimetal 101 Metal Repair Paste 2-part epoxy was thoroughly mixed according to the Technical Data Sheet, then pressed firmly to the repair areas to reduce or eliminate any and all possible air pockets and to ensure excellent product adhesion and a long lasting repair. The long lasting repair was completed in hours and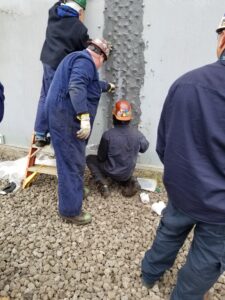 fully cured in 3 days.