NaOCL Rubber Tank Repair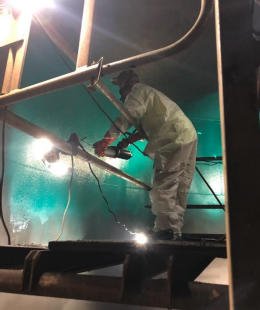 The Problem
This wastewater treatment facility client called USI because they had a leak in a rubber lining of a steel tank that had been replaced two years ago. He was looking for a system that would last more than two years.
The Substrate
Steel with Rubber Lining
The Solution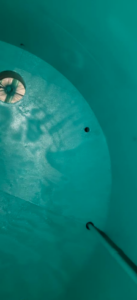 The owner power-washed the tank to remove the caustic elements. To remove the existing rubber lining a 40,000-psi water jet was required.
After removing the rubber lining the tank was abrasive blasted to a SC-SPC -10 or Nace 2. Since the lining had been leaking for a while, the metal had extensive metal loss and the metal was rebuilt with Resimetal 101 Metal Repair Paste.
Then one coat of 3M Scotchkote 323+ 900ml Repair Cartridges was applied at 30 mils wet on wet.
After the application was completed and 72 hours had passed, a holiday spark test was performed.
The owner is now having USI reline two more tanks at the same facility.
Products Used