Chiller Refurbishment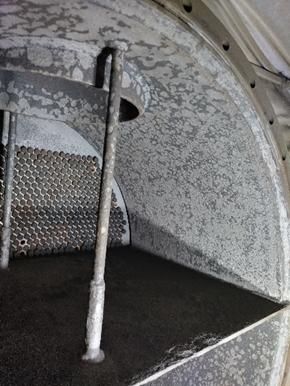 The Problem
A chiller operator at a large stadium was concerned with corrosion inside one of their chillers. Hearing about our solutions for corrosion protection and prevention, they decided to hire USI to coat the chiller.
The Substrate
Steel
The Solution
To remove the corrosion on the chiller at the time, USI used the NACE #2 standard for surface preparation, abrasively blasting all the corrosion away down to near white metal.
After surface prep, the corroded parts of the chiller were rebuilt using RESIMETAL 201 Ceramic Repair Paste. Then, for the prevention of future corrosion, the chiller was painted with two coats of RESIMETAL 202 Ceramic Repair Fluid, one coat red and the other gray. This procedure is standard for the product, as it helps with pinhole and holiday detection.
The chiller operator shared that they were extremely happy and impressed with the USI team's results and communication with them throughout the project. They are going to have us repair and upgrade the stadium's other two chillers next spring.
Products Used